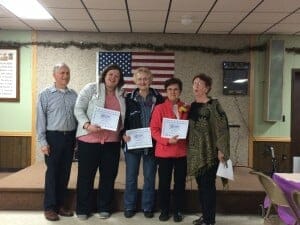 We recently held our annual Volunteer Appreciation Luncheon. We are so thankful for the many volunteers that contribute to our goal of "Neighbors helping Neighbors".
Pictured above are: Jeff Fromm, Executive Director; Lindsey Schmidt, Wellness Assistant and 5-year volunteer; Doreen Gerads, 5-year volunteer; Diane Langer, 5-year volunteer and Diane Koehn, Service Coordinator. Not pictured, but receiving recognition for 10-years of service, were Mary Stalberger and Darlene Young.
If you weren't able to attend this year's luncheon, know that your contribution to Helping Hands Outreach is sincerely appreciated. If you would like to join our volunteer team call us at 746-9960.